Hi everyone!
So I've just finished BookTube-A-Thon (to which you can find a playlist of all my #BTAT17 videos here!), and thought I'd now have a well deserved reading break!
THEN I saw that ARC August was happening over at Read Sleep Repeat this month…so I decided that I'd ignore my reading break and do this readathon instead! I have a lot of ARC's to catch up on, so this has actually come at the most perfect time!
The ARC's I'll be reading for this readathon (in no particular order) are (I've included their synopsis too!):

The Ugly Teapot by Fred Holmes
Fourteen-year-old Hannah Bradbury loved her father so much that she worried about him constantly. After all, he was a photographer who traveled to the most dangerous places in the world. 
To allay her fears, each time he came home he brought her silly gifts, each one with supposed magical powers: the Seal of Solomon, the Ring of Gyges, even Aladdin's Lamp. It was that lamp Hannah found the most unbelievable, for it looked like an ugly teapot. Nevertheless, her father assured her it was real, and made her promise to save her three wishes for something very special. 
Then . . . six months later . . . the unthinkable happened. Her father was killed while on assignment to Baghdad. And so on the day of his funeral Hannah did something she never thought she would ever do. 
She took out that teapot and gave it a rub . . . 

A Climbing Stock by Andrew Hiller
Many years ago, Jacque, was tricked into selling his last cow to M. Au Paulet for an amount that wasn't worth beans. The greedy monopolist guarded all his cattle closely, thus depriving the world of the milk of human kindness. The world soured as the last milk curdled. John, the owner of a small failing business, is tricked by a strange little man to sell his company for three thousand shares of an unknown stock called BEAN (Biomicroscopy Endoscopic Arterial Neurosurgery). To his surprise, the BEAN stock grows rapidly. So rapidly in fact, that he finds himself questioned by the FBI, FTC, and practically other organization with an F in their name. In order to preserve his name, John breaks into BEAN headquarters and is soon recruited by Mr. Tucker to try to bring kindness back to the world. Whisked away, John must fight bureaucrats, dragons, labor unions, and a very powerful corporate giant. But despite all the obstacles, John won't quit, not 'til the cows come home.

Powerful by S.N. Lemoing
For twelve years, the power has been usurped at the Realm of Harcilor.
Cyr, an erudite, and his adopted son, Kaaz, have formed a secret school.

Indeed, in this world, some people were born endowed with magical abilities: the Silarens.
However, it is not that easy to detect your own powers.
They will soon be joined by a mysterious young woman who will provide them with valuable information.

When Litar – the most powerful being of the realm – goes away for two months, they finally foresee the opportunity to act.
Can they win their freedom back? Will they make the right choices?

Vermilion Tears by Tia Lee
Vermilion Tears is a gothic paranormal novel set in Victorian times. Lydia comes from humble beginnings living with her family in New Haven. Her life gets turned upside down when she is on a train to New York City to start her new life. Lydia is attacked by supernatural creatures she didn't even realize existed. Now a supernatural being herself, she finds herself fleeing from a brutal captor and trying to keep her family intact. Will she be caught or will she succeed in escaping and restoring her family?

Chronister Cliff by Simone Van Der Steeg
At young age, the now seventeen year old Karen Eason lost her parents. After a difficult time, everything seems to be working out for her and her four brothers after all. She managed to get her life back on track and everything seems to be going well for her, until Thomas Chronister enters her life.
Thomas seems to be an extraordinarily kind young man from England. He is always helpful and seems to only want the best for Karen and her family.
But when Karen gets to know him better, she discovers that he is hiding something from her. She is determined to find out what it is that he is so desperately keeping away from her. Even though Thomas knows she is on to him, he keeps denying that he has something to hide.
When Karen eventually discovers his peculiar secrets, it sets in motion a series of strange and sometimes inexplicable happenings, which make Karen realize her life might just have changed for good.

At Waters Edge by S. Mcpherson
Seventeen year old, Dezaray Storm is blamed for the death of her parents, hated by her brother and secluded from her friends, but that doesn't stop her from believing in magic.
Premonitions, cloaked figures and a handsome stranger with the ability to teleport, lead to Dezaray tumbling through a portal and into a world where she's mistaken for the most powerful sorceress and hunted by monsters and demons.
In a twisted turn of events, the true sorceress ends up lost in our world, wandering the streets of England with a broken device and the whisper of forgotten magic to guide her. The two girls must trade back before their 18th birthday where a war is set to break out in the realm of Coldivor and shatter both realities.

Feel Me Fall by James Morris
Emily Duran is the sole survivor of a plane crash that left her and her teenage friends stranded and alone in the jungles of the Amazon. Lost and losing hope, they struggle against the elements, and each other. With their familiar pecking order no longer in place, a new order emerges, filled with power struggles, betrayals, secrets and lies. Emily must explain why she's the last left alive.
But can she carry the burden of the past?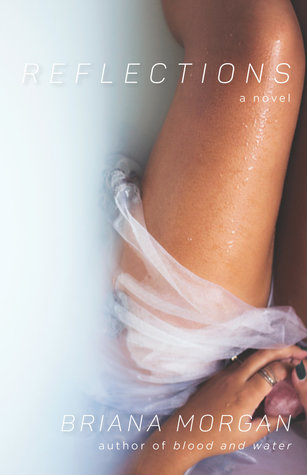 Reflections by Briana Morgan
In the small, rural town of Aldale, West Virginia, Ramachandra "Rama" Ganeshan wants nothing more than to avoid dressing rooms for the rest of her life. After a brutal assault destroys her confidence and self-esteem, she yearns to be someone else . . . someone pretty, popular, and loved—until multiple girls in town are found murdered.
After stumbling across her beautiful classmate's body and a terrifyingly familiar face in the murderer, Rama encounters a group of shapeshifters who know more of the killings than they let on.
Only by earning the shapeshifters' trust and becoming one of them will Rama be able to help serve justice.
But first, she must learn to love herself and confront her painful past—and find the courage to investigate the violence
There we go! I don't know what order I'll read them in, but I intend to finish ALL of them by the end of the month! I can't wait because they all sound so amazing, and I can't thank the authors enough for allowing me to read them and review them!
I'm so excited to get to them all! Leave a comment with what you think of my choices, and to all the authors who sent me their books on this list, I love you all and I'm so excited to read your wonderful words!
Until then,
Keep Reading!
Meggan x