Hi everyone!
I was going to start this by saying "it's been a while", but honestly I feel like that is such an understatement! I haven't fully been dedicated to my blog AT ALL this year – I've posted every now and again but haven't really been back as much as I normally am. I wanted to write a little update post on what's been happening, and why I've been so absent recently – and also give some of my reading stats this year so far!
This is probably going to be a long one because there's quite a lot of stuff to update you on – but I'll split it into sections to make it easier!
Okay here goes…
Life
Life has been a bit of a weird one for 2019 so far. It started off wild with some family stuff going on in my family, and then as the year went on, some family stuff happened with Ben's family and it was all a bit of a roller-coaster. We seem to be on the come up now from it all, but it's been a bit of a rough one.
I've been ill quite a lot this year too, and have been having to deal with some illnesses I've had since I was little, only to now be told that I could have been saved so many years of pain if the doctors had just listened to me when I was younger. I've had awful headaches and migraines ever since I was little, and was always told to "wait and see" when I went to the doctors. I waited until this year they got so bad I couldn't leave the house, I would just be laid out on the sofa with a pillow over my head because I was in so much pain, and this would last weeks at a time. I finally went back to the doctors again and my doctor actually listened to me! She diagnosed me with Chronic Tension Migraines/Headaches and put me on some medication to help, and by some wonderful miracle it has. It helps to manage my pain, and although I still have some days when I'm in pain, it's nothing like before. It feels amazing that I've finally gotten somewhere after a literal decade of pain!
Another illness that has been affecting me a lot since I was little is joint pain. My joints – especially my knees and ankles – have been painful once again since I can remember. In November last year I was told I was "hypermobile" – so my joints are more flexible than they should be, which can cause pain as my joints then move more than they should. I've now been referred to physiotherapy, and I'm really happy with my progress so far. We've been doing some exercises, and I feel happy we're finally getting somewhere! I also found out I'm extremely flat footed when I walk, which is causing me to walk incorrectly leading to joint pain! I'm getting some custom insoles for my shoes next week and I'm actually super excited. I've never had anything to correct how I walk, and I know it's been a big contributor to my joint pain, so I can't wait to see what happens next.
Another HUGE life update, and probably my absolute favourite – we got a cat!! We finally added a furry companion to our family, after wanting one for so long. We had a look around, and definitely decided we wanted to adopt a cat, and then after looking around we found our perfect little Leo! He is absolutely gorgeous, and the perfect little guy. He gives us cuddles, annoys us when he wants food, and is such a outgoing and boisterous boy we couldn't love him more. He's the perfect little addition to our house, and we've only had him two weeks but I can't imagine life without him! Here's a couple pics of him (if you want to see more I have an entire thread of him on my Twitter (link below!).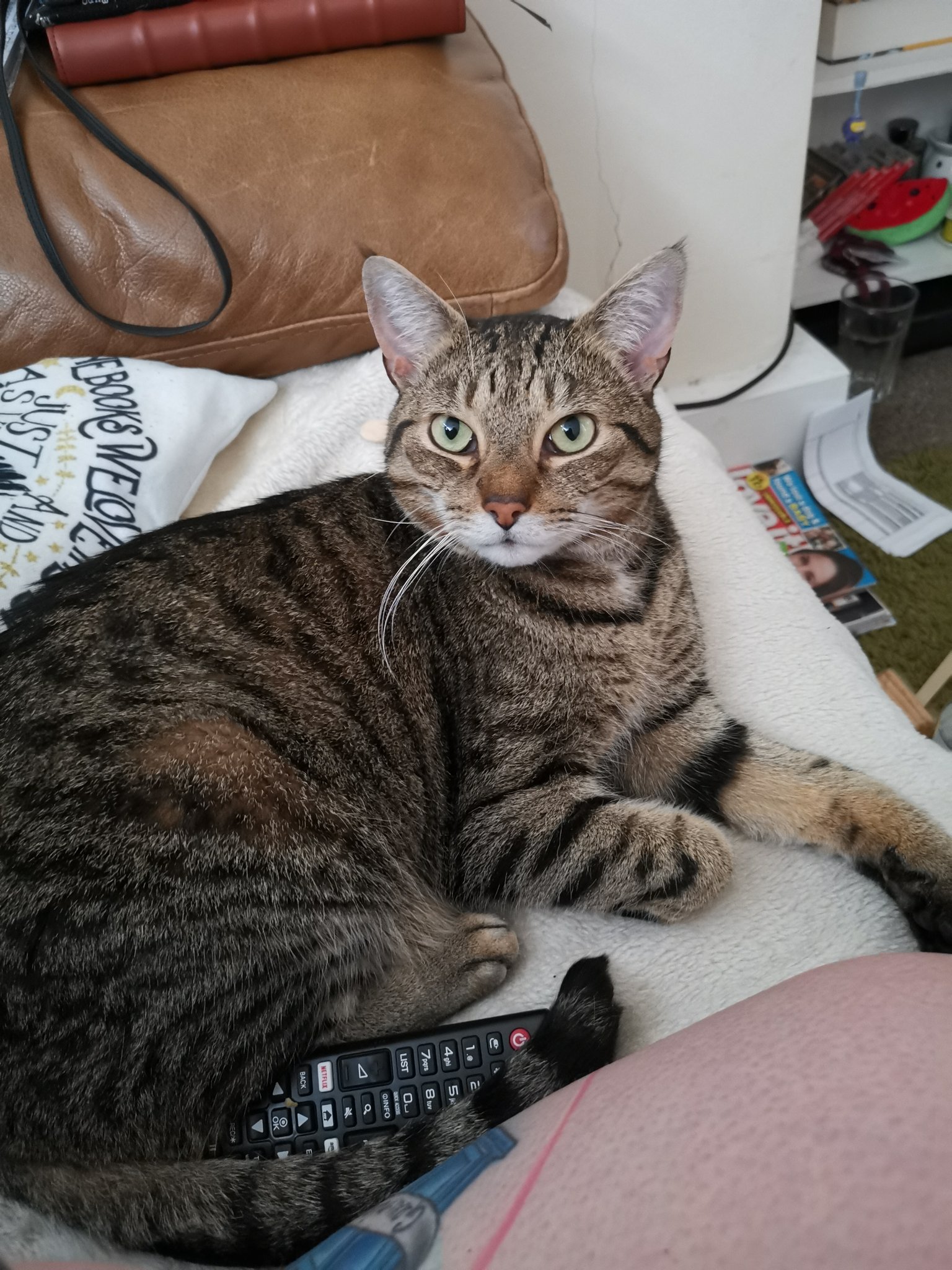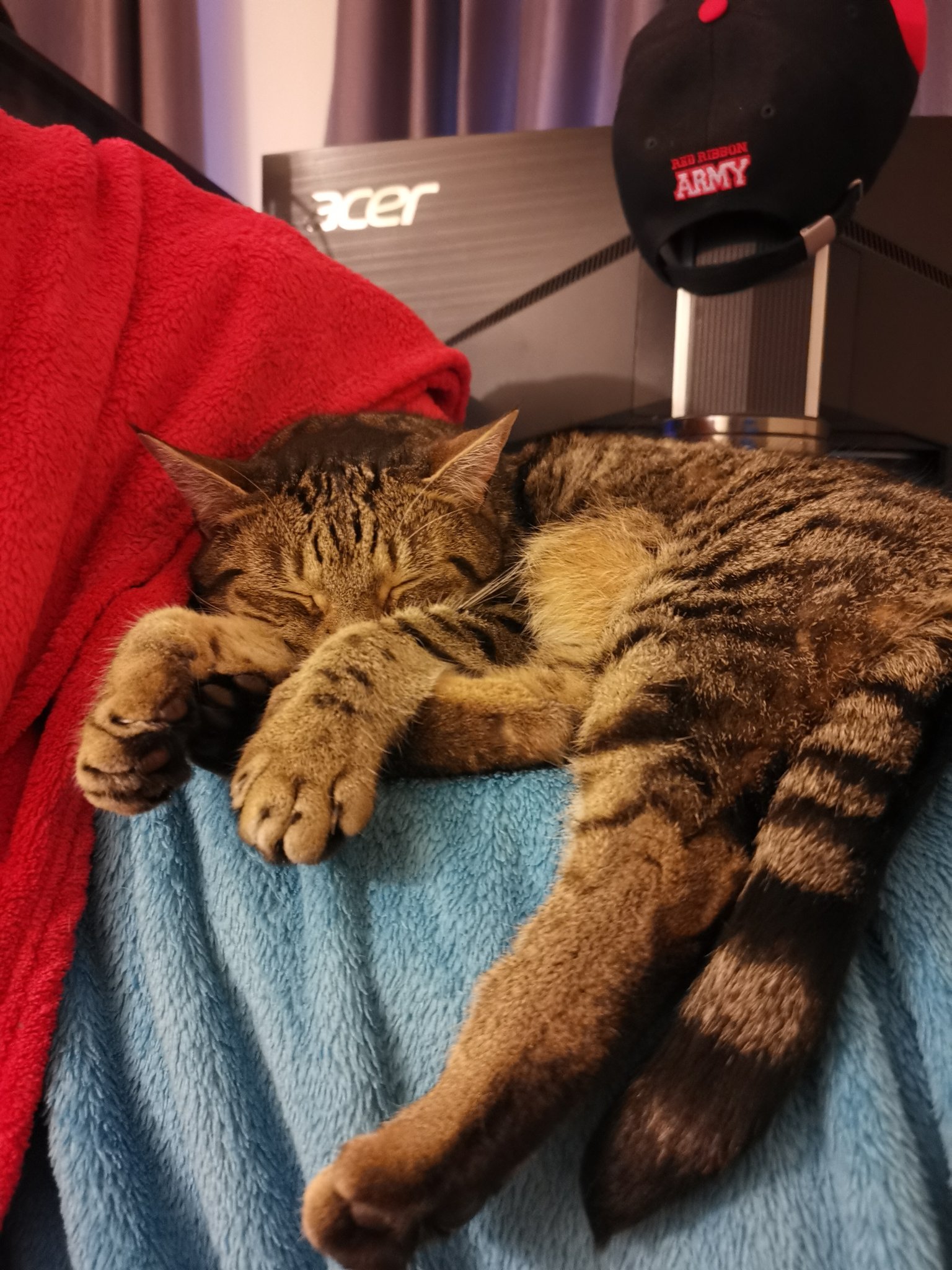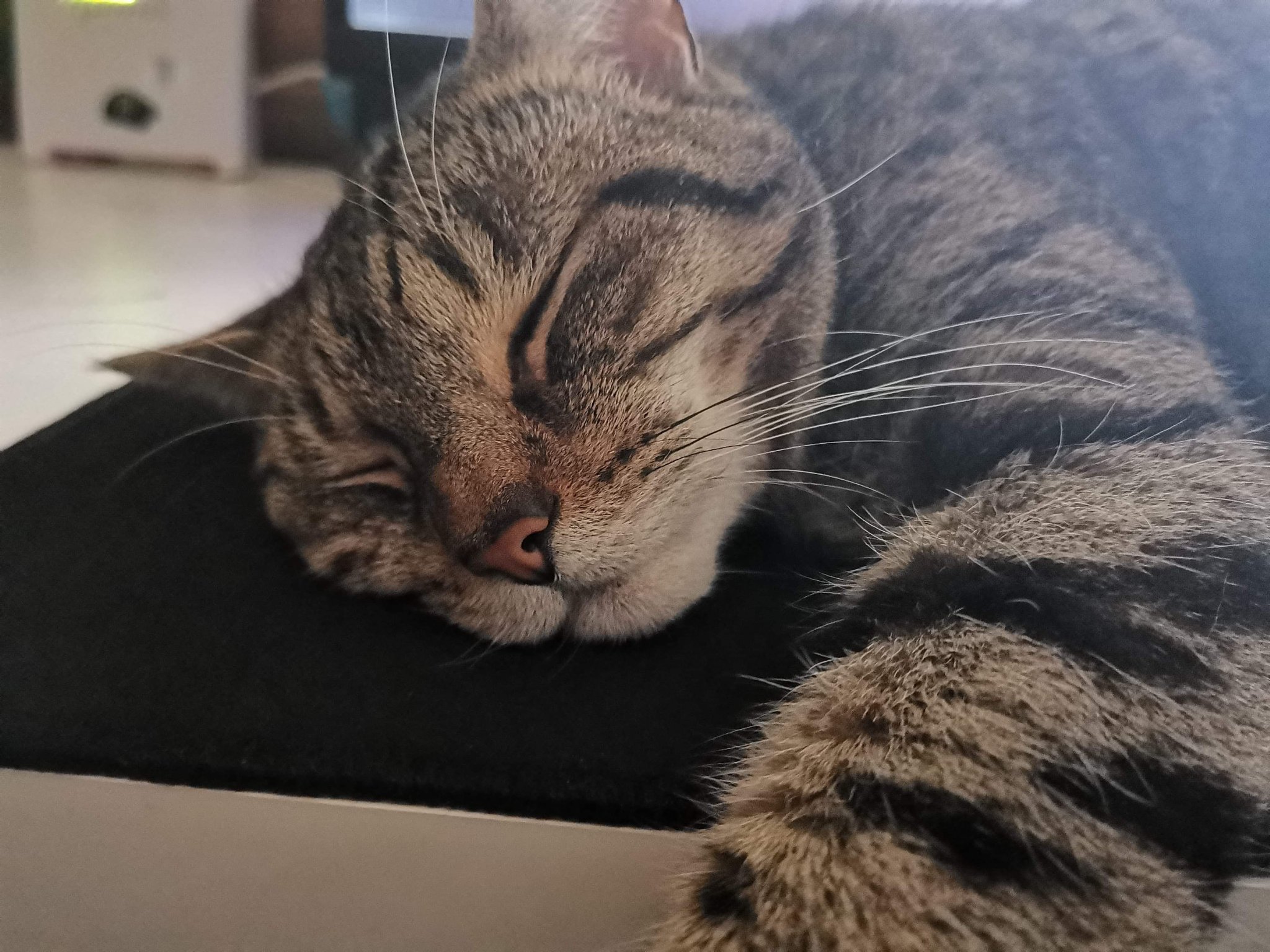 Finally, I'm still at the same job at Santander that I started in December, and I truly do enjoy it. It's brought me some wonderful friends, and people who I genuinely adore, and I think it is the job for me, for now at least. However, recently I have been struggling a lot with my mental health which has led me to be signed off from work due to anxiety and depression since mid-June. It's been a wild ride for this one, which leads me nicely onto the next update…
Mental Health
Here it is. The big update and the main reason why I've been missing for so long. I'll try to keep this one short, but honestly it's affected my life so much this year. Quick backstory – I got diagnosed with depression and anxiety back in 2016, and have been medicated with anti-depressants ever since then. I've tried 3 different ones, at all the different doses, and it's been pretty tough. However once I start 200mg of sertraline, my depression started to get easier to cope with – the clouds started clearing a little. I was thrilled, and then suddenly the anxiety kicked me in the ass when I least expected it. I set off for work one day, cried the entire way there and ended up getting off the bus and having a huge panic attack in a shop toilet's and being sick. That was on the 18th June and I haven't been back to work for a work shift since then.
Everytime I tried to go back into work I just broke down in tears, and had a panic attack – even now when I tried to go back on the Friday just gone, the exact same happened. I have no idea why I'm like this, or what has triggered it because I do enjoy my job. That has just made it all the more confusing and upsetting. I tried new medication which didn't work, and counselling has such a long waiting list I needed help now. For now I'm trying a lower dosage of sertraline to see if it was such a high dosage that was affecting my anxiety – honestly we're really just trying anything,
It's been really tough, because it's not only affected my work life but my everyday life. I lost interest in the basic things, and everything I did do caused me so much panic. The thought of writing blog posts was stressful, for reasons I didn't even know why. I've had so many ideas for my blog over this year, but I was so worried and terrified to act on them, I just didn't post. Going out to see friends and family, something that even in my worst depressive states, I forced myself to do, became huge hurdles of panic. I started to get to one of my lowest ever points in my mental health, and it's taken a lot to get back to a point where although I'm still having a real tough time about it, I can at least talk about it.
My family and friends have been my life savers. They've helped me by letting me talk to them, giving me support and being proud of me for the littlest things such as getting a bus even just 10 mins away from my house, something that seemed huge to me at the time. I don't think I would be able to talk about it if it wasn't for them, and I'm crossing my fingers that I'll be back at work within the next couple of weeks – but I'll listen to my body and see what's best for me.
If you want more of an insight into how I have been feeling then you can read this post I wrote just before I got signed off here: Anxiety and Me. I am completely open when it comes to mental health, so if you want me to talk more about what I do to cope, or the journey of trying different medications and how they affected me, then please let me know below too.
What I've Been Loving Recently
TV:
When I'm not feeling good, I love nothing more than putting on a show and just marathon-ing it. Recently I've been watching a lot of How I Met Your Mother because I like having it on as background noise when I'm writing or anything like that. I also recently rewatched The Good Place, because it is honestly my feel good show, as well as Brooklyn Nine Nine! This past month I watched the entire collection of The Fresh Prince of Bel-Air and BOY did I not realise just how important this show is? It deals with so many important topics including racism, drug abuse, gun crime and family issues. It was so good to watch it in full again, and honestly I wish everyone would watch it because it is such an important show, as well as being a comedy great.
Film:
I've barely watched any films this year at all, apart from the main two I was HYPED for; Avengers: Endgame and Spider-Man: Far From Home. I am a huge Marvel fan and I absolutely adore the Avengers films, and anything Tom Holland is in so naturally I loved these two. Tom Holland is such a wonderful actor, and literally a perfect Spider-Man. Oh and Endgame? Yeah I cried for AN ENTIRE HOUR after that film finished. And even now if someone mentions it to me I start sobbing so yeah…that's my life now. I guess you could say I love it 3000…
I'M SORRY.
Music:
My music tastes have been EVERYWHERE recently. Obviously I've been listening to a lot of Hamilton (my fave), but recently I've completely become obsessed with Six: The Musical. It's a musical about the six wives of Henry the Eighth and I love it. It's so sassy, catchy, and I find myself singing the songs from it all the time! I've also recently discovered BLACKPINK and honestly? WHAT QUEENS. They are so fierce, and I could literally watch them dance forever and be happy. Billie Eilish has also become a new favourite of mine, I love everything she stands for and her lyrics really just get to me on a level I never expected. They're most of the new additions to my music tastes, other than that it's my usual loves; Panic!, FOB, YMAS, and the queen herself, Taylor Swift.
YouTube: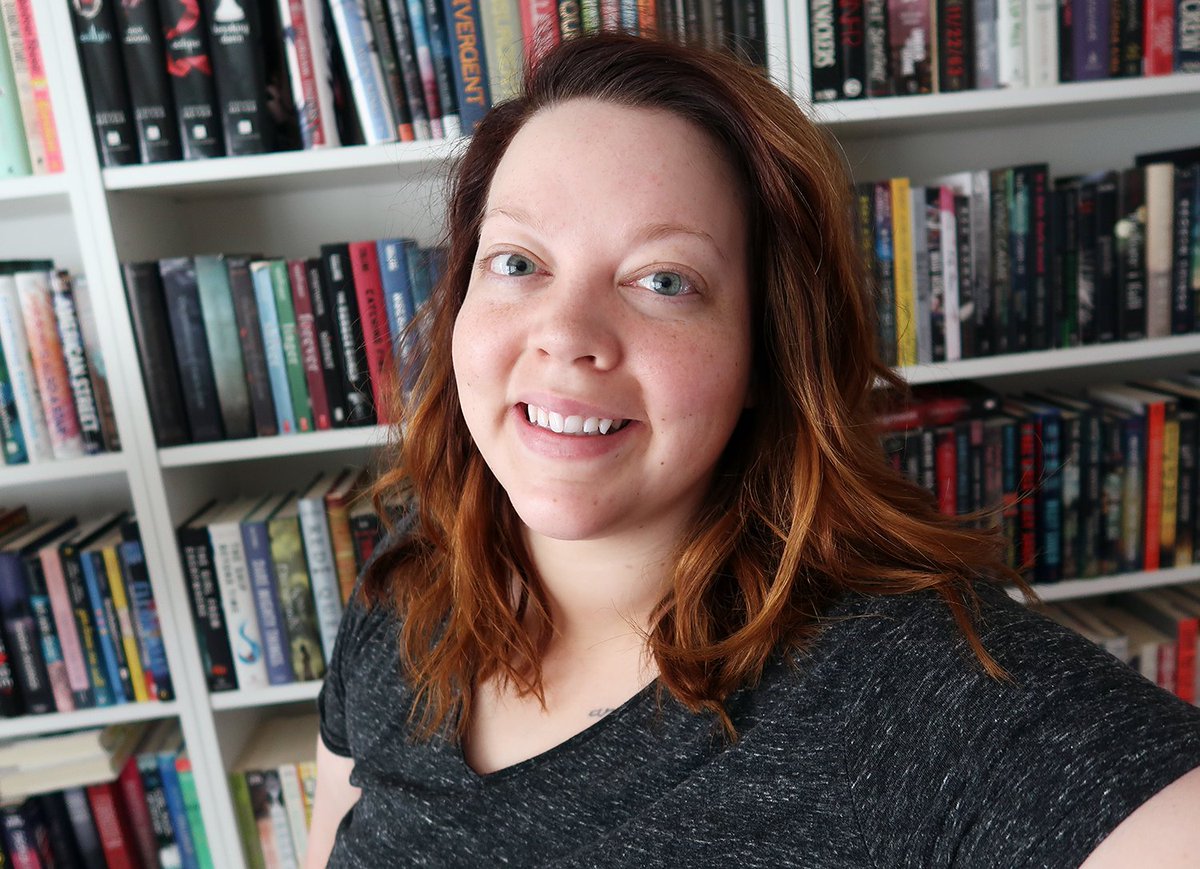 I have absolutely fallen in love with BooksAndLala this year, her videos bring such a smile to my face and I love just sitting for hours watching her talk about books. Her videos are so inspiring and so unique compared to any other booktuber I've watched and it just makes me so happy. I also have been loving Jenna Marbles – but I have for a very long time so that's no surprise! Her videos make me smile too, and I love how she just does things for herself and doesn't mind what people think!
Reading Life
My reading has been…varied to say the very least. One of the main things I do when I'm struggling with my mental health, is either read A LOT, or read NOTHING. I literally have no in between. A prime example of this is the past two months where I've been struggling – in July I read 32 books the entire month which is a lot for me. However this month? We're halfway through and I've finished 2 books so far. I genuinely have no in between, I either read tonnes or nothing, so clearly this month is my "barely anything" month.
However I have discovered a new love for the library during my time off work, and my struggle with mental health. My local library has recently been getting a lot of new releases in, and due to the lower wage I'm getting for being off sick, instead of buying books I've been utilizing my library and borrowing tons of books from them! It's actually been so fun to go the library and be surrounded by the books, and just have a browse without worrying about how much I'm spending! I've also picked up a lot of books I wouldn't normally, including a lot more adult romances! I loved The Hating Game by Sally Thorne and Josh and Hazel's Guide to Not Dating by Christina Lauren – it's been great to branch out my reading.
I've also recently been reading a lot of "comic strip" type books, such as the books by Sarah Scribbles, which are hilarious and SO accurate. I love this type of book as not only are they short and sweet, some of the comic panels just speak to my soul.
If you want a full update on what I've read this year you can go to my Goodreads page here: Meggan's Goodreads.
Reading Stats for 2019 so far
Here's a little summary on what I've read so far this year:
Books Finished – 116 (HOW?!?!?!)
Ratings;
5 Stars – 58 books
4 Stars – 33 books
3 Stars – 17 books
2 Stars – 6 books
1 Star – 2 books
DNF – 0 books
Books Read In;
January – 13 Books
February – 4 Books
March – 15 Books
April – 8 Books
May – 20 Books
June – 10 Books
July – 32 Books (WHAT A MONTH)
August – 2 books so far
Books Hauled In;
January – 9 Bought + 4 ARCs = 13 Books
February – 5 Bought + 5 ARCs = 10 Books
March – 5 Bought + 5 ARCs = 10 Books
April – 8 Bought + 4 Birthday Gifts +  4 ARCs = 16 Books
May – 5 Bought + 7 ARCs = 12 Books
June – 3 Bought + 2 ARCs = 5 Books
July – 0 Bought + 3 ARCs = 3 Books
August – 2 Bought + 7 ARCs = 9 Books so far
Total Books Hauled in 2019 So Far – 37 Bought + 37 ARCs = 74 Books Hauled
Physical TBR Total – 64 Books (SERIOUSLY?? WHO AM I?)
Unread ARC Total – 18 Books (YIKES)
Well if you made it this far, then congratulations on your concentration skills haha! Also thank you SO much for reading this entire thing, and if you're reading it then also a HUGE thank you for supporting me during this time. I know I haven't been active, but the fact that people still read my posts without me posting frequently truly means the world to me.
I don't know if I'm back for good yet, but I hope with this little update it's the start of something new for me, and fingers crossed I'm back to my old blogging self!
If you want to keep updated with me on my other social media, find me here:
Twitter – @MegsTyas
Instagram – @betweenthe_pages
Until next time,
Keep Reading!
Meggan x