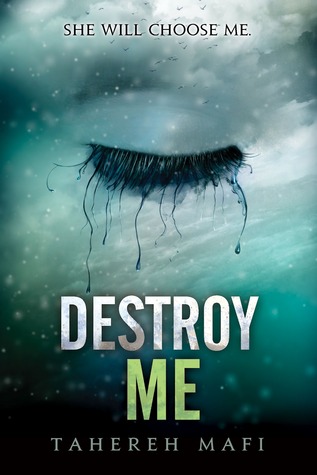 Title: Destroy Me by Tahereh Mafi
Rating: ★★★★★
Release: 2nd October 2012
Synopsis: Back at the base and recovering from his near-fatal wound, Warner must do everything in his power to keep his soldiers in check and suppress any mention of a rebellion in the sector. Still as obsessed with Juliette as ever, his first priority is to find her, bring her back, and dispose of Adam and Kenji, the two traitors who helped her escape. But when Warner's father, The Supreme Commander of The Reestablishment, arrives to correct his son's mistakes, it's clear that he has much different plans for Juliette. Plans Warner simply cannot allow.
Review:
A brilliant behind the scenes look at the fearless leader of Sector 45, like you've never seen him before.
Before I read this book I never knew how anyone could like Warner, never-mind fall in love with him but my god am I in love with the man now!
This was one of the best, if not the best, novella's I've ever read and I think it will be for a very long time. I loved how we got to see Warner in a way we never have before, and I also couldn't believe how well written his backstory was.
It changed the way I saw him completely, and because of Tahereh's amazing writing it really allowed his character to develop in ways I never expected. There was so many emotions, such a beautiful insight into the person he is behind the mask of Sector 45, and it was amazing.
This is definitely a must read for anyone reading the Shatter Me series – if you don't love Warner yet GET READY!
You can buy Destroy Me in the compendium Unite Me on Amazon UK here!