Hi everyone!
Well to say that I was completely DROWNING in coursework last month, I'm actually quite impressed at how much I got read! I also got down quite a few ARC's so yay me! I finish university completely at the end of this month, so I'm excited to get back to reading CONSTANTLY!
Let's check out what I read!

ARC Reads:

Title: Invitation to Poetry by Mihai Brinas
Rating: ★★★★
Review: I'm really getting into poetry recently, and when Mihai asked me to read this, I was very excited and it lived up to my expectations. I loved how beautiful it was, and some of the poems really got to me in a good way.

Title: The Exact Opposite of Okay by Laura Steven
Rating: ★★★★★
Review: Wow this book. I had NO idea what this book was about when I requested it on NetGalley (literally the story of my life), but I am in awe at how much I loved it. I didn't expect it to be so powerful, and one of the characters is my new most hated villain too – a title that is hard to achieve! Review up soon!

Title: Sunflowers in February by Phyllida Shrimpton
Rating: ★★★★★
Review: Once again I had no idea how much this book would move me. I ended up sat crying reading it in McDonalds after work one day. I must have looked weird but it was SO worth it because I am just in love. I think this is definitely my favourite ARC read of April! My review will be up soon!

Title: To Kill A Kingdom by Alexandra Christo
Rating: ★★★★★
Review: Sarah had been telling me to read this for ages, and I finally did! I loved the characters, and thought it was so brilliantly linked to The Little Mermaid – and such a nice and neat ending too! Review up soon!


Title: We Are Young by Cat Clarke
Rating: ★★★★
Review: It's no secret that I absolutely adore Cat Clarke, and this book is no different. Her writing style is just amazing, and the overall plot of the book, and it's underlying messages are something that I never expected. My review will be up soon!
Other Reads:

Title: Obsidio by Jay Kristoff and Amie Kaufman
Rating: ★★★★★
Review: It's finally over and I am not even slightly okay. I think I just sat and stared at this book after I finished it because I am just so happy with the entire series. This book was on par with how much I loved Illuminae, and everything that happens happens in the best way, and left me with every emotion. Review up soon!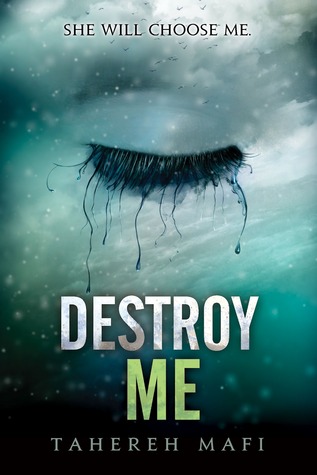 Title: Destroy Me by Tahereh Mafi
Rating: ★★★★★
Review: The only coherent thing I have to say about this is that it did exactly as the name says. It DESTROYED ME. Seeing the world from Warner's perspective was everything and I am completely in love with him. Adam WHO?


Title: Unravel Me by Tahereh Mafi
Rating: ★★★★★
Review: Once again this series never fails to blow me away, and the development in this book is outstanding. Although I think it is my least favourite of the series we have so far, I still loved how the development for everyone is done! Review up soon!
Title: Fracture Me by Tahereh Mafi
Rating: ★★★
Review: I'm going to be compeletely honest and say I am definitely not really here for this novella. ADAM WHO.

Title: Ignite Me by Tahereh Mafi
Rating: ★★★★★
Review: 100% my FAVOURITE in the series so far, this book is the reason I live oh my god. I literally just want to cry thinking about it because everything was done so perfectly. Also can I marry Kenji please??? He is the king of my entire life. My review will be up soon!



Title: Restore Me by Tahereh Mafi
Rating: ★★★★★
Review: THE ENDING. WARNER. EVERYTHING. I am not okay, but I am completely okay that this book exists and if I could have book 5 now then I'd really appreciate it please???

Title: Cycle of the Werewolf by Stephen King
Rating: ★★★
Review: A short dramatic story, that although isn't my favourite in any way of Stephen King it was still interesting and worth the read. Also the illustrations are definitely recommended for full effect!


Title: Odd Thomas by Dean Koontz
Rating: ★★★.5
Review: This book had such an amazing start, and I definitely really liked it. Dean Koontz has such a good way of writing, and the character of Odd completely had my heart! I don't know whether I'll carry on with the series but the ending had me in tears. It was brilliant.
There we go! I read so many wonderful books last month, and can't wait to see what's in store for me this month!
What did you read last month?
Until next time,
Keep Reading!
Meggan x