Hi everyone!
I was tagged by the lovely Vrinda over at A Bookish Human! Thank you so much, I'm so excited to do this tag! I would have loved to go to Hogwarts – yes I may be 20 years old but I'm sure my letter just got lost in the post….right? RIGHT????
Am I a pureblood, half-blood, or muggle born?
I'm not sure but probably muggle born knowing my luck!
Which wand chose me?
Hawthorn wood with a unicorn hair core, 10 ¾" and quite bendy flexibility!
Did I take an owl, cat, rat, or toad with me?
I would definitely take a cat! I love cats so much so of course I'd take one with me!
Where did  the sorting hat put me?
HUFFLEPUFF PRIDE!!!!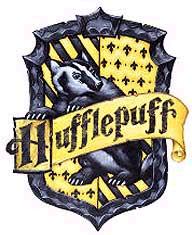 What house did I want to be in?
I didn't really have a preference, but now I wouldn't want to be in any other house!
What lessons are my favorite and least favorite?
I reckon I'd love Defence Against the Dark Arts the most! I definitely would hate Divination probably!
The form my patronus takes ?
A Ragdoll Cat apparently according to Pottermore! I love cats so I'll definitely take it!
What does a boggart look like to me?
Ooooo good question! I bet mine would be the same as Ron's – a giant spider! I have such a phobia of spiders so I definitely understand Ron's boggart!
Do I partake in any magical hobbies or school sports?
I'd probably spend my life in the library! It's so big, and I LOVE books so it's a perfect place to spend my free time!
Where would I find myself hanging in my free time?
I once again refer you to the question above – THE LIBRARY! Or the Room of Requirement probably!
What would I most likely get detention for ?
I tend to avoid anything that can get me into detention, but probably for stealing books to read it bed haha!
What career do I want after leaving Hogwarts ?
I actually don't know what I'd want to do! Probably be a Professor at Hogwarts – I mean that's the dream isn't!
That was so much fun!
Leave a comment with what you thought to my answers, and what your answers would be!
I tag:
Lara – Words with Lara
Lorryn – Reading Parental
Faye – A Daydreamer's Thought
Tasha – It's A Tasha Thing
Reema – Aumsome
Until next time,
Keep Reading!
Meggan x