Hi everyone!
I bought most of my books this month at the start of the month, from halfway through the month I didn't actually buy any! Yay for kind of restraint haha! I did however buy some amazing books this month and I am SO EXCITED to read them!
My book haul for the month:

Title: All the Light We Cannot See by Anthony Doerr
I loved The Book Thief and I heard this was similar so I had to get it!
Synopsis: For Marie-Laure, blind since the age of six, the world is full of mazes. The miniature of a Paris neighbourhood, made by her father to teach her the way home. The microscopic layers within the invaluable diamond that her father guards in the Museum of Natural History. The walled city by the sea, where father and daughter take refuge when the Nazis invade Paris. And a future which draws her ever closer to Werner, a German orphan, destined to labour in the mines until a broken radio fills his life with possibility and brings him to the notice of the Hitler Youth.

Title: Stealing Snow by Danielle Paige
Danielle Paige is AMAZING and I loved her Dorothy Must Die series! This is another retelling of Snow White and she is such a queen at retellings!
Synopsis: Seventeen-year-old Snow lives within the walls of the Whittaker Institute, a high security mental hospital in upstate New York. Deep down, she knows she doesn't belong there, but she has no memory of life outside, except for the strangest dreams. And then a mysterious, handsome man, an orderly in the hospital, opens a door – and Snow knows that she has to leave .
She finds herself in icy Algid, her true home, with witches, thieves, and a strangely alluring boy named Kai. As secret after secret is revealed, Snow discovers that she is on the run from a royal lineage she's destined to inherit, a father more powerful and ruthless than she could have imagined, and choices of the heart that could change everything. Heroine or villain, queen or broken girl, frozen heart or true love, Snow must choose her fate .

Title: The Name of the Wind by Patrick Rothfuss
I've heard nothing but good things about this book, and I've been putting off getting it for so long now. I decided to finally pluck up the courage to get it, I can't wait!
Synopsis: "I have stolen princesses back from sleeping barrow kings. I burned down the town of Trebon. I have spent the night with Felurian and left with both my sanity and my life. I was expelled from the University at a younger age than most people are allowed in. I tread paths by moonlight that others fear to speak of during day. I have talked to Gods, loved women, and written songs that make the minstrels weep. My name is Kvothe. You may have heard of me"
So begins the tale of Kvothe – currently known as Kote, the unassuming innkeepter – from his childhood in a troupe of traveling players, through his years spent as a near-feral orphan in a crime-riddled city, to his daringly brazen yet successful bid to enter a difficult and dangerous school of magic. In these pages you will come to know Kvothe the notorious magician, the accomplished thief, the masterful musician, the dragon-slayer, the legend-hunter, the lover, the thief and the infamous assassin.

Title: The Night Circus by Erin Morgenstern
Another book I've heard SO MANY things about! I've been wanting it for ages and then I saw it in my local bookstore and the temptation to get it overwhelmed me!
Synopsis: The circus arrives without warning. No announcements precede it. It is simply there, when yesterday it was not. The black sign, painted in white letters that hangs upon the gates, reads: Opens at Nightfall. Closes at Dawn
As the sun disappears beyond the horizon, all over the tents small lights begin to flicker, as though the entirety of the circus is covered in particularly bright fireflies. When the tents are all aglow, sparkling against the night sky, the sign appears. Le Cirque des Rêves. The Circus of Dreams.
Now the circus is open.
Now you may enter.

Title: The Loney by Andrew Michael Hurley
The synopsis sounded AMAZING when I picked this up, and the cover is stunning! I have actually already read this and you can see my small review here!
Synopsis: Two brothers. One mute, the other his lifelong protector.Year after year, their family visits the same sacred shrine on a desolate strip of coastline known as the Loney, in desperate hope of a cure. In the long hours of waiting, the boys are left alone. And they cannot resist the causeway revealed with every turn of the treacherous tide, the old house they glimpse at its end . . . Many years on, Hanny is a grown man no longer in need of his brother's care. But then the child's body is found. And the Loney always gives up its secrets, in the end.
Title: Bazaar of Bad Dreams by Stephen King
Stephen King is literally the biggest auto buy author I have on my shelf, so that mixed with this GORGEOUS cover, it was a must have!
Synopsis: Here is a treasure here for every reader: a man who keeps reliving exactly the same life, repeating his mistakes over and over again; a columnist who kills people by writing their obituaries; a poignant tale about the end of the human race and a firework competition between neighbours which reaches an explosive climax. And, exclusive to this paperback edition (and the eBook from 6 September), a brand new story 'Cookie Jar'.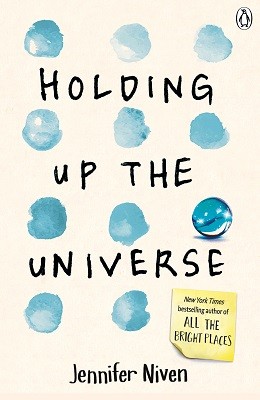 Title: Holding Up the Universe by Jennifer Niven
I liked All The Bright Places, so thought that I'd give this a try too! Also book bloggers everywhere have rated it so high that I can't wait to try it!
Synopsis: Everyone thinks they know Libby Strout, the girl once dubbed 'America's Fattest Teen'. But no one's taken the time to look past her weight to get to see who she really is. Since her mum's death, she's been picking up the pieces in the privacy of her home, dealing with her heartbroken father and her own grief. Now, Libby's ready: for high school, for new friends, for love, and for EVERY POSSIBILITY LIFE HAS TO OFFER. I know the part I want to play here at MVB High. I want to be the girl who can do anything.
Everyone thinks they know Jack Masselin too. Yes, he's got swagger, but he's also mastered the art of fitting in. What no one knows is that Jack has a secret: he can't recognize faces. Even his own brothers are strangers to him. He's the guy who can re-engineer and rebuild anything, but he can't understand what's going on with the inner workings of his own brain. So he tells himself to play it cool: Be charming. Be hilarious. Don't get too close to anyone.
Until he meets Libby. When the two get tangled up in a cruel high school game which lands them in group counseling, Libby and Jack are both angry, and then surprised. Because the more time they spend together, the less alone they feel. Because sometimes when you meet someone, it changes the world – theirs and yours.


Title: Dead Man's Blues by Ray Celestin
I LOVED THE AXEMANS JAZZ so much that as soon as I say Ray's name I picked it up. I love his writing style, and now that I've actually read the synopsis it sounds so exciting and mysterious I love it.
Synopsis: Chicago, 1928. In the stifling summer heat three disturbing events take place. A clique of city leaders is poisoned in a fancy hotel. A white gangster is found mutilated in an alleyway in the Blackbelt. And a famous heiress vanishes without a trace. Pinkerton detectives Michael Talbot and Ida Davis are hired to find the missing heiress by the girl's troubled mother. But it proves harder than expected to find a face that is known across the city, and Ida must elicit the help of her friend Louis Armstrong.
While the police take little interest in the Blackbelt murder, Jacob Russo, crime scene photographer, can't get the dead man's image out of his head, and so he embarks on his own investigation. And Dante Sanfelippo – rum-runner and fixer – is back in Chicago on the orders of Al Capone, who suspects there's a traitor in the ranks and wants Dante to investigate. But Dante is struggling with his own problems as he is forced to return to the city he thought he'd never see again . . .
As the three parties edge closer to the truth, their paths cross and their lives are threatened. But will any of them find the answers they need in the capital of jazz, booze and corruption?
Charity Shop Haul!
I got all of the books in this section from local charity shops, for between 50p and £1! I love charity shop books!

Title: The Graveyard Book by Neil Gaiman
I've wanted a Neil Gaiman book for so long so when I saw this for 75p I just had to. I actually read it on the train as soon as I got it and you can see my mini review of it here!
Synopsis: When a baby escapes a murderer intent on killing the entire family, who would have thought it would find safety and security in the local graveyard? Brought up by the resident ghosts, ghouls and spectres, Bod has an eccentric childhood learning about life from the dead. But for Bod there is also the danger of the murderer still looking for him – after all, he is the last remaining member of the family. A stunningly original novel deftly constructed over eight chapters, featuring every second year of Bod's life, from babyhood to adolescence. Will Bod survive to be a man?

Title: The Nosferatu Scroll by James Becker
Dracula is my favourite classic in the world, so when I read that this was Dracula-like, I was completely sold already!
Synopsis: BOHEMIA, 1741
On the northern banks of the Vltava River, an extraordinary event is taking place. Inside a private chapel, a high-born Hungarian lady is being laid to rest. But not before her heart is removed from her body, and she is buried beneath a layer of heavy stones – lest she rise again to prey upon her victims …
VENICE, 2010
Holidaying in the world's most beautiful city, Chris Bronson and Angela Lewis discover a desecrated tomb. Inside it is a female skeleton and an arcane diary dating back hundreds of years. Written in Latin, it references a scroll that will provide an 'answer' to an ancient secret.
Soon corpses of young women, all killed in the same ritualistic manner, start appearing throughout the city. And when Angela disappears, Bronson knows that he must find her before she too is slaughtered. But Bronson's hunt for Angela leads him back to the Island of the Dead, and into a conspiracy more deadly than he could ever have imagined …

Title: The Killing Lessons by Saul Black
I love a good murder mystery – and this was so cheap and looked so good I couldn't not.
Synopsis:  When the two strangers turn up at Rowena Cooper's isolated Colorado farmhouse, she knows instantly that it's the end of everything. For the two haunted and driven men, on the other hand, it's just another stop on a long and bloody journey. And they still have many miles to go, and victims to sacrifice, before their work is done.
For San Francisco homicide detective Valerie Hart, their trail of corpses – women abducted, tortured and left with a seemingly random series of objects inside them – has brought her from obsession to the edge of physical and psychological destruction. And she's losing hope of making a breakthrough before that happens.
But the slaughter at the Cooper farmhouse didn't quite go according to plan. There was a survivor, Rowena's 10-year-old daughter Nell, who now holds the key to the killings. Injured, half-frozen, terrified, Nell has only one place to go. And that place could be even more terrifying than what she's running from.

Title: Jurassic Park by Michael Crichton
The Jurassic Park films are some of my favourite ones in the entire world, so when I found the first book in the shop I was so excited! I can't wait to see how they compare!
Synopsis: On a remote jungle island, genetic engineers have created a dinosaur game park.
An astonishing technique for recovering and cloning dinosaur DNA has been discovered. Now one of mankind's most thrilling fantasies has come true and the first dinosaurs that the Earth has seen in the time of man emerge. But, as always, there is a dark side to the fantasy and after a catastrophe destroys the park's defence systems, the scientists and tourists are left fighting for survival…

Title: The Lost World by Michael Crichton
The second book was a must have – now I can binge read them, what more do I need!
Synopsis: It is now six years since the secret disaster at Jurassic Park, six years since the extraordinary dream of science and imagination came to a crashing end – the dinosaurs destroyed, the park dismantled, the island indefinitely closed to the public.
But there are rumours that something survived. And when a team go to investigate, they are determined not to give it a chance to escape


Title: Carrie by Stephen King
I'm collecting all of his books and since this was his first ever book I was thrilled to find it in perfect condition in the charity shop for 50p! YAY!
Synopsis: Carrie White is no ordinary girl. Carrie White has the gift of telekinesis. To be invited to Prom Night by Tommy Ross is a dream come true for Carrie – the first step towards social acceptance by her high school colleagues. But events will take a decidedly macabre turn on that horrifying and endless night as she is forced to exercise her terrible gift on the town that mocks and loathes her . . .

Title: Rose Madder by Stephen King

Another one for my collection! I'm so glad, the charity shops are the best!!
Synopsis: Roused by a single drop of blood, Rosie Daniels wakes up to the chilling realisation that her husband is going to kill her. And she takes flight – with his credit card. Alone in a strange city, Rosie begins to build a new life: she meets Bill Steiner and she finds an odd junk shop painting, 'Rose Madder', which strangely seems to want her as much as she wants it. But it's hard for Rosie not to keep looking over her shoulder. Rose-maddened and on the rampage, Norman is a corrupt cop with a dog's instinct for tracking people. And he's getting close. Rosie can feel how close he is getting . .

Title: The Diary of a Young Girl by Anne Frank
This era always interests me, and I have so many books on the war but I've never had this! I've been meaning to read it for years so I'm happy I now have the chance to read this incredible book.
Synopsis: In July 1942, thirteen-year-old Anne Frank and her family, fleeing the occupation, went into hiding in an Amsterdam warehouse. Over the next two years Anne vividly describes in her diary the frustrations of living in such close quarters, and her thoughts, feelings and longings as she grows up. Her diary ends abruptly when, in August 1944, they were all betrayed.
That's it for my haul! Such a mix of genres this month, and some amazing deals too! I'm so happy with them!!
Leave a comment with your hauls, I'd love to see them!
Love,
Meggan x