Hi everyone!
Okay so buying bookish merchandise is one of my favourite things to do (other than buying books haha!) and over the past year I've found some amazing stores to buy things from so thought I'd share them with you! This post will probably be longer than usual (I can't express my love for these stores enough!) so bear with me! Anyway, in no order, here are my top 10 favourite bookish merch stores!
The candles from Raquel are literal bookish perfection! She takes so much time in perfecting everyone's scents, and makes the most beautiful candles! It's my absolute dream to one day own at least one of the candles (THERE IS A JEM CANDLE GUYS), but the shipping kills me because it's so much to where I live (don't live in the UK guys, it ruins your life). However I still definitely recommend getting one of her candles, because she seems so lovely and her scents are PERFECT! Reading the descriptions it's like she knows the characters personally, and knows exactly what they smell like! Definitely goals in bookish merchandise right here! Just a few of my favourite looking candles below! How wonderful: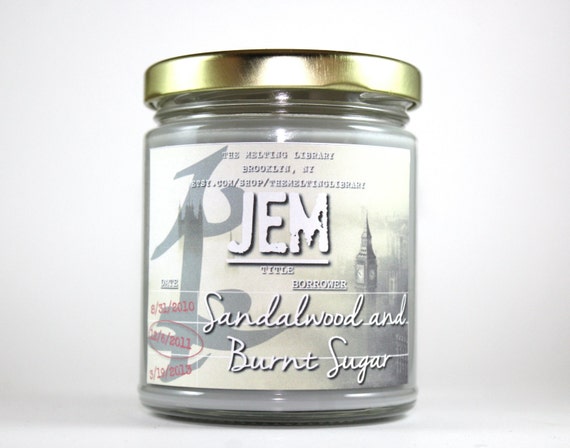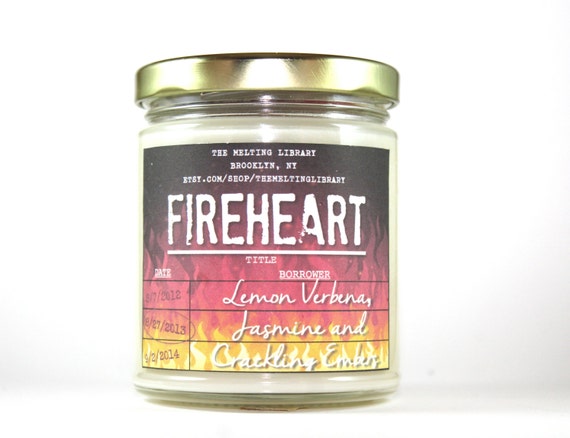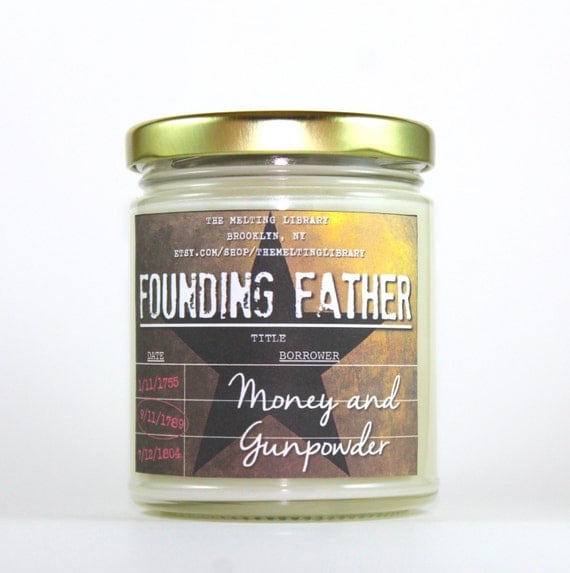 Okay so EVERYTHING in this store on Etsy is amazing! Gina makes beautiful watercolour bookmarks, book boyfriend (and now girlfriend) soaps, and she's also recently introduced lip balms!! I have such a love for lipbalms and bookmarks so this store is a must have for me. I've yet to order a lip balm (I'm making an order soon don't worry, Manon and Jem you're coming my way) but everything just seems amazing! Anything she creates is gold, and so unique too! I love the idea of book boyfriend/girlfriend items! Bringing the fictional into the real world, what more does a book lover need! Here's some examples of the wonderful items!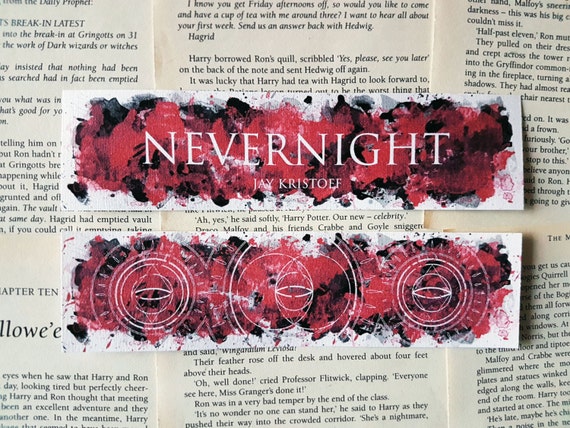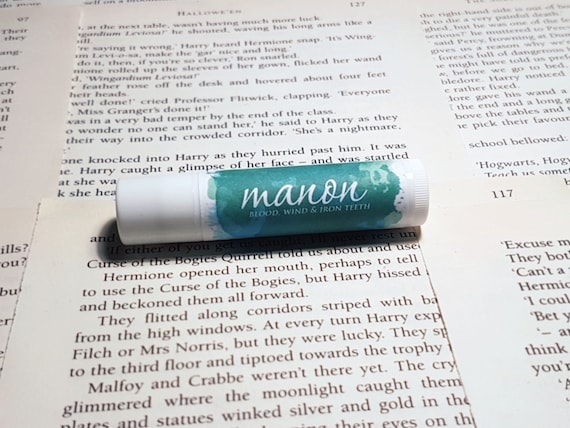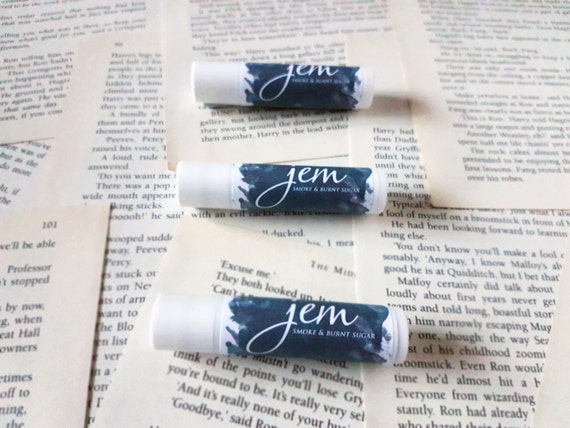 3.BookBeau
I LOVE BENITA AND HER BOOKBEAUS. There I said it. I ordered my first bookbeau a couple of months ago and I haven't stopped using it since! If you don't know what one is, it's a padded sleeve to put your paperback in so it doesn't get damaged when you carry it around, and it is AMAZING. Her designs are beautiful, so well made, and she is just an angel. Definitely go check out her store, but they sell out fast (when they're in stock) so make sure to get in there quick when she restocks! She's currently out of stock so here's a picture of my bookbeau!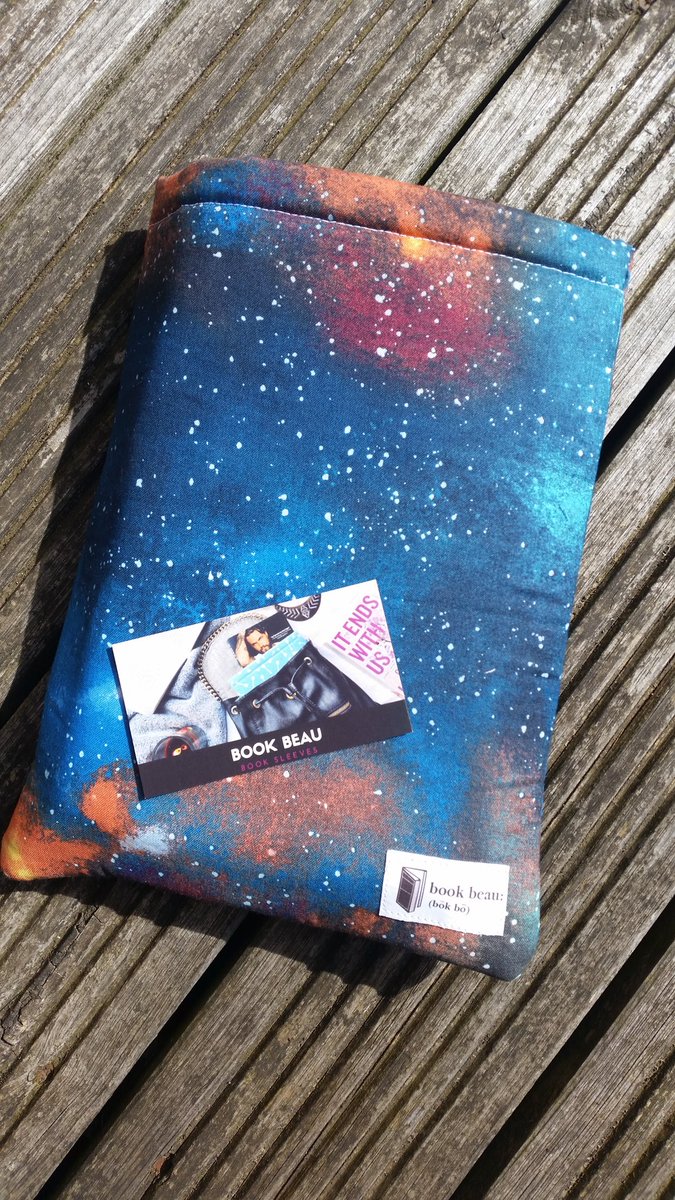 I have a serious addiction to magnetic bookmarks at the moment, and it all began because of HappyHello! Vivi makes the most wonderful little book companions, from Throne of Glass characters to Harry Potter. I love the designs and how you can easily see which characters they are, and I own SO MANY of her collections it's becoming an obsession. If you have a love for bookmarks, and can't think of anything better than to share your reading adventure with your favourite characters, I definitely recommend this store! Here are the bookmarks I own and some other ones of Vivi's!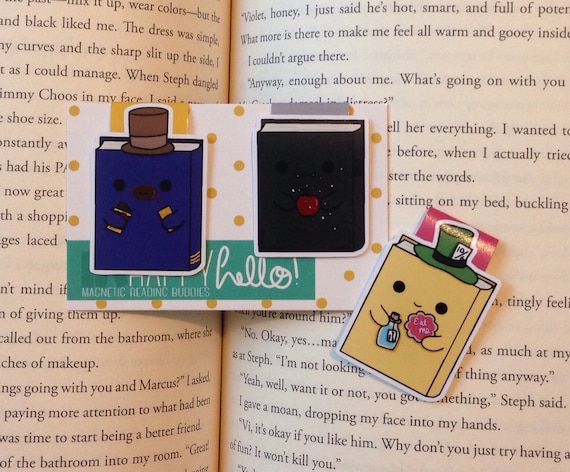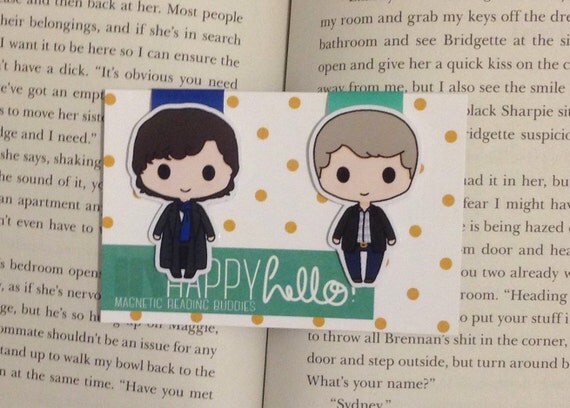 Another store responsible for my magnetic bookmark addiction! Jessica also makes BEAUTIFUL bookmarks of your favourite characters (also which I own A LOT of) and I honestly love them so much. I mean she even has a Hamilton set guys!!! They're so strong and sturdy, and the perfect little addition to my reading time! The best thing too, is that (as said in the name) Jessica also creates all sorts of stickers! From character stickers, to stickers that help you with your workouts, she has everything! Amazingly priced and wonderfully made! A must have store on your wishlist! Here are the 3 types of products; stickers, magnetic bookmarks and quote ones!!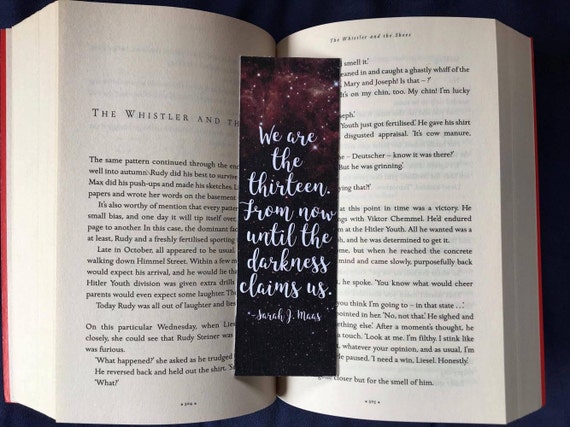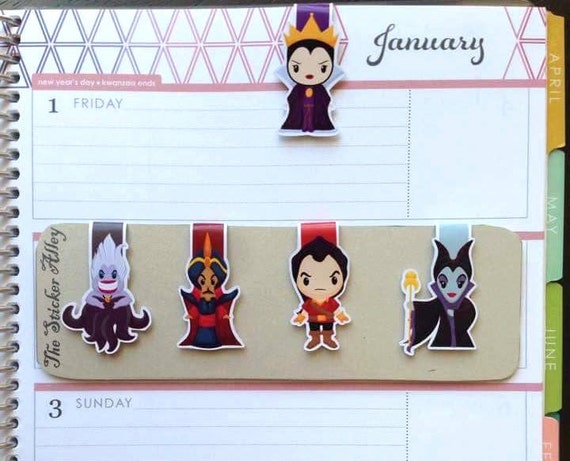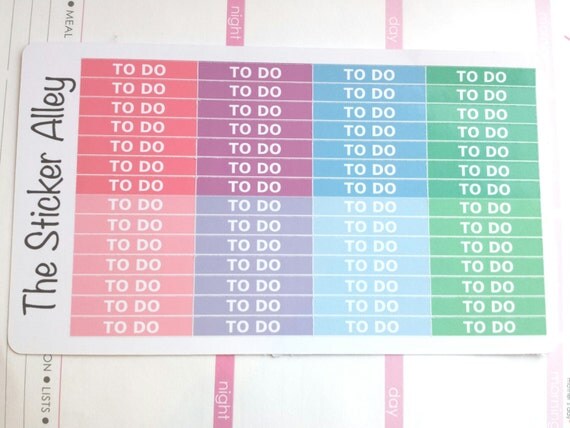 I bought some custom Hamilton bookmarks from Lindsay and she was the loveliest person! She even included a little note for me! Her bookmarks are all so well made, and so much effort gone into them! They brighten up anyone's reading experience, some with nice colours and others with your favourite quotes! I love her store, and the pricing is amazing! If you're looking for some good unique bookmarks then I can't recommend her enough! This is one of her new sets, and the bookmarks I own!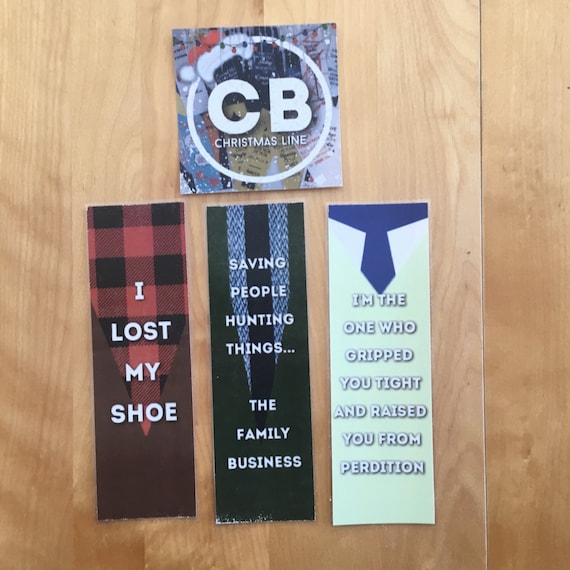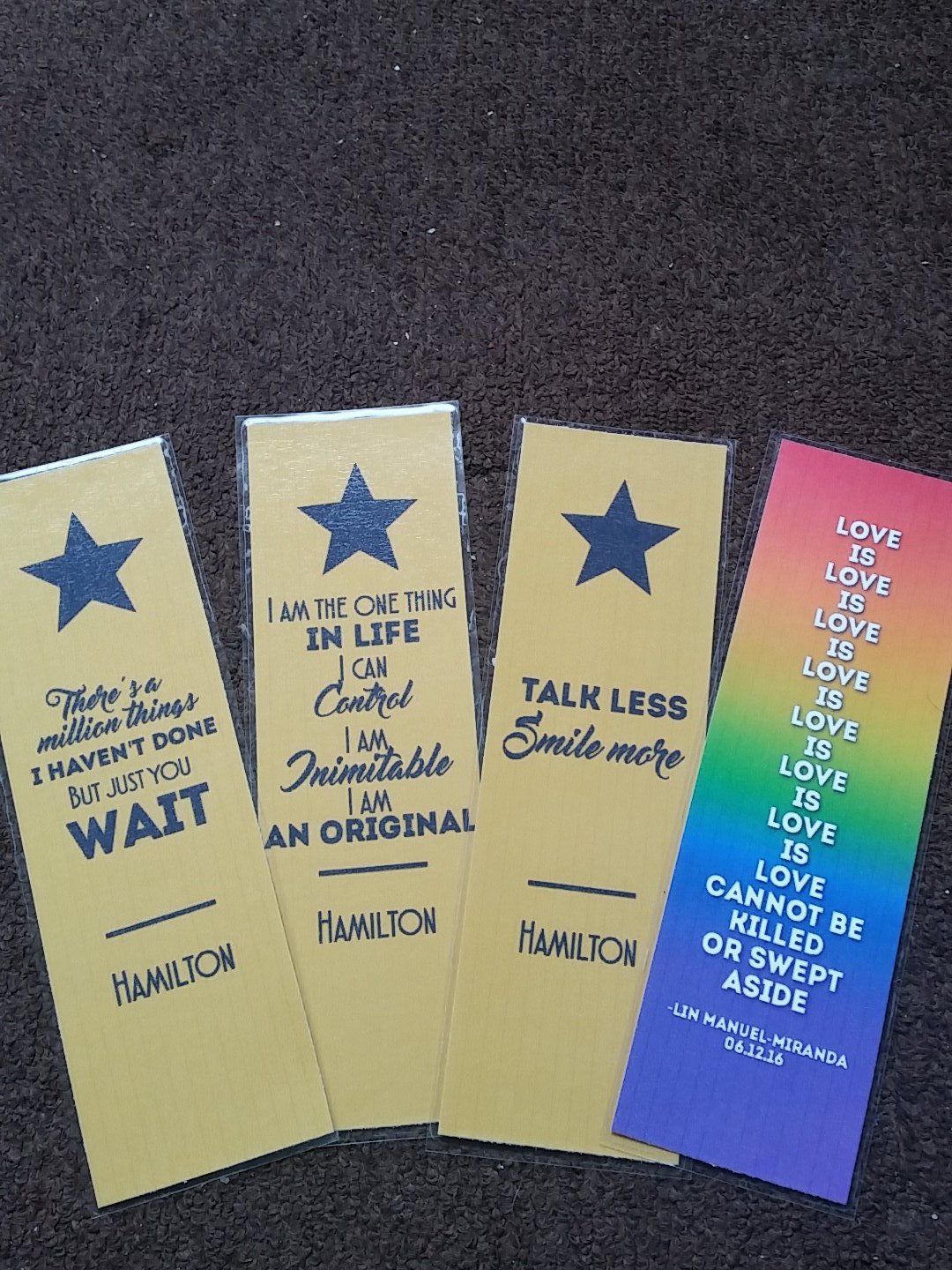 I'm sure nearly everyone will have heard of Evie's store because every single part of it is pure gorgeousness. She had to be in my list because I just love love love her designs. She has designed basically any type of merch you could think of, from totes to mugs, and they're all so uniquely beautiful! Again I'm yet to order from her (I really need to have some of her merchandise in my life because oh my god) but if anyone wants some beautiful merch from a wonderful person then Evie is the way to go! I can't express my love for her items enough!! LOOK AT THESE BEAUTIES:
Another amazing store with beautiful designs! The pillows from this store are heaven! I love pillows and some of these have the most accurate quotes I've ever read! I can't get over how beautiful the pillows are, nevermind the rest of the gorgeous merchandise! I will own something one day! Lauren seems so lovely, and her talent is beyond belief! Unique designs and wonderful talent, a sure fire winner! Look at these wonderful pieces of merch though: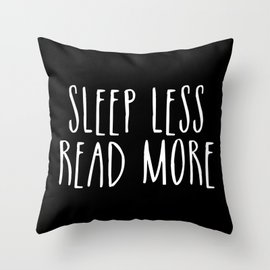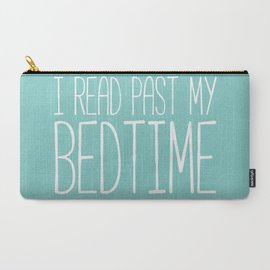 I've recently discovered this store and I am in love! Stacey's items are so amazing, and she's based in the UK!!! I can't believe it! From tote bags, to card designs she has basically everything you could think of, for an amazing price! I love the tote bags so much, and her use of bright colours is so eye catching! Her store is a new love of mine, but it's definitely going to be on my watch list from now on! I highly recommend you go look at her wonderful items in her Etsy store! Here are some examples of the beautiful products!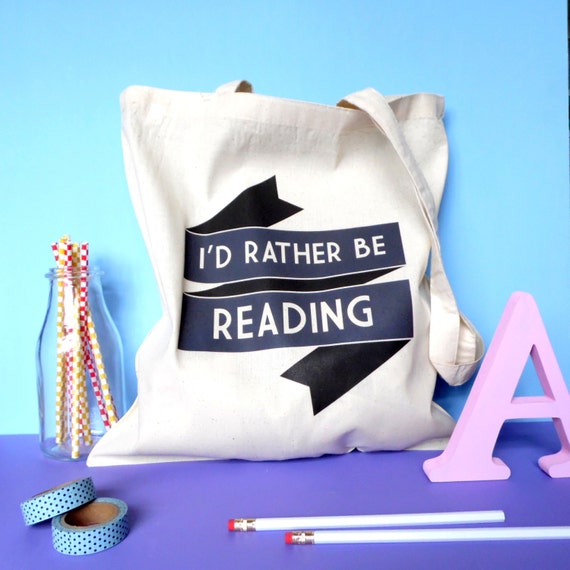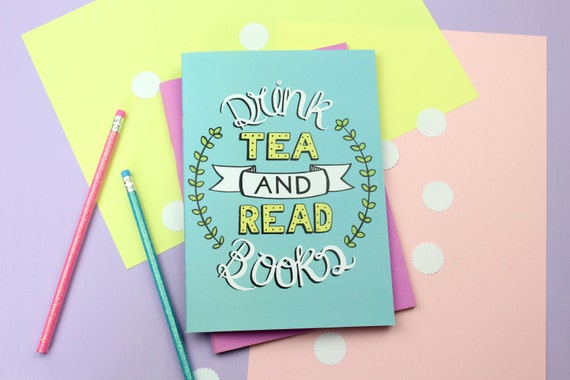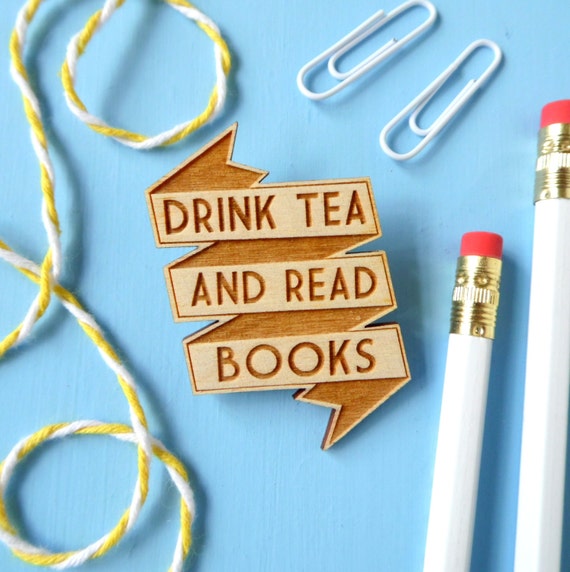 10.OutofPrint
I discovered Out of Print as they recently designed an item for a bookish subscription box, and once I saw the item I was in love with this store! I've never seen such a range of bookish items (THERE'S EVEN SOCKS YOU CAN BUY! SOCKS!) and all so wonderfully created! I love this store so so much! Look at these wonderful items from the store:
There we go! They're my top 10 favourite bookish merchandise stores! My love for each of these stores is so high it's unreal, thank you to each and every one of the store owners for creating such wonderful items for us book lovers to embrace our passion!! It also helps that most of the owners love books themselves, I love the book community! I can't wait to order from each and every store one day!
If you haven't checked any of them out yet, the links to the stores are in the names! I definitely recommend, you won't regret it!
What are your favourite merch stores?
Love,
Meggan x